Creative Center for Young Children (CCYC)
Des Moines' only  fine arts focused preschool and child care center – located in the historic downtown

First United Methodist Church.

We'll introduce your child to artists – including visual artists, poets, musicians, and dancers – at an age appropriate level, allowing him/her to experience and experiment with a variety of art genres.We approach every day with imagination, innovation, and most of all, fun!  To learn more about our program please visit our curriculum page.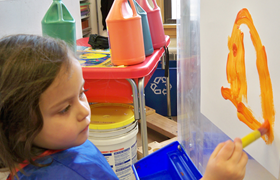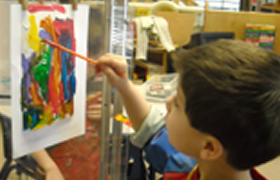 November 6-7, 2023
Nos School for DMPS

November 16-17, 2023
No School for DTS

November 20-22, 2023
No School for DTS

November 22, 2023
No School for DMPS

November 23-24, 2023
CCYC CLOSED

November 27-December 22, 2023
Reverse Advent 

December 8, 2023
No School DTS

December 14, 2023
Lunch with Santa

December 22-29, 2023
No School DTS & DMPS

December 25, 2023
CCYC CLOSED

January 1, 2023
CCYC CLOSED
After considering a number of daycare options for our son, we chose CCYC and could not be happier with the decision.  It is clear that the teachers are happy and love working there which means they are always focused on caring for and teaching their students, my child, every day.  Perhaps most importantly, our son is happy to go (and sometimes not happy to leave!) everyday and we see marked development in his socialization, artistic ability and academics. 
From the moment we walked into the doors of CCYC, we felt right at home.  We were so impressed on many levels.  The curriculum is well thought out.  The facility has something for every style of learning: hands on, listening, movement, and social.  The staff always makes us feel that our child is important, understood, and well taken care of when he is there. 
I toured three other centers and was leery on what I witnessed.  The fourth and FINAL tour was CCYC.  I was blown away at the learning programs they offer.  They work with each kid on their developmental level, offer Spanish and have dance class and are hands on in the classroom.  Not to mention all the wonderful places they visit the learning experiences.  Plus, they keep parents involved and updated on your child's progress
We've been with CCYC for over four years with both our children and have always been pleased with the excellent attention they've received from all their CCYC caregivers.  We've developed many close relationships with the staff and trust in the care they give our children.  We've heard from our son's elementary teacher on how well prepared he was in transitioning into Kindergarten and I believe we have CCYC teachers to thank for that success. 
Our family has been fortunate to be a part of CCYC.  Both of our children were prepared to enter Kindergarten as a result of the CCYC teachers, and both are flourishing in elementary school because of the foundation they had at CCYC
CCYC has been a wonderful place for our son to grown and develop and our daughter will join him soon.  CCYC was recommended by several other parents whose children attended daycare thru after school that said great things.  They have incredibly thoughtful, attentive teachers, the ideal curriculum that includes, art, movement, play, and learning, and clean big facilities.  We have been so happy with their care and staff as they have helped our son become the curious, smart kid he is today. 
We came for lunch one day.  Your lunch routine is lovely for the children.  Thank you for our tasty lunch and making it possible to come and enjoy not only our grandson but all the children!
As a retired teacher,I always am sensitive to the environment and surroundings when it comes to our grandson.  Each time I have come to your daycare I am thrilled to find and observe everything not only positive but above and beyond wonderful.  Your staff truly do care for all the children. 
It is obvious this not just a job for the teachers.  We have been in our grandson's classroom many times now and each and every time I observe all the teachers using kind and gentle but firm tones as they guide and direct the children.  They are all very consistent in their expectations.  The Picasso teachers are especially talented as far as including the children in all activities and incorporating learning skills as they as the children questions "as they play." 
You give our grandson the consistency he loves, the kind tones he truly needs, the patience he craves, and the understanding he so desperately should have at this age.